Even if you decide not to use Britain's premier entertainer, please read these Birthday party tips. They are based on over 30 years worth of experience and will help your party be more successful and less stressful.
Before the party.
1. Tie a bunch of balloons to the front door. This guides your guests to the party house and helps to set the mood before the guests even enter the building.
2. Get a BIG cardboard box for presents. Then as the children arrive, put the presents that they bring safely into the box so that they may be opened AFTER THE PARTY. This way you will know who brought what, so that thank you letters can be sent. This also ensures that nothing gets lost or broken.
3. To avoid a clash of dates with a classmate whose party might fall on the same day, get your party invites out in good time. You can always do reminders closer to the date.
4. If the entertainer is booked for a certain time in the party, please put that time on the invite. There's few things more upsetting for a parent than their child crying because they've miss the magic man.
5a. Choose your venue carefully. Having a party outside, without a large marque and a solid floor is NOT a good idea. Rain and mud can ruin my props, hot sunshine means restless children, a sudden change in the weather can mean children running for cover, and I want you to get the very best value for your money. However, you might find it more convenient to feed the children in the garden should the weather be warm and dry.
5b. Also, do you really want the party at home? Think carefully about this. Is the room Peat's to perform in wide enough (I alone need a 6 foot wide by 10 foot deep area)? Is there enough ceiling height (minimum 10 foot)? Are there lots of fragile Ming vases etc. just waiting to be knocked over and is the carpet jelly and ice cream proof? A village hall only cost a few pounds, yet offers enough room for all the children to run around and wear their selves out, ensuring you a peaceful night. Also, it's a lot easier to sweep ice-cream up from a halls floor than it is to steam clean your carpets.
During the party.
1. Save squeakers, hats, blowers and balloons till the end or they could distract from the entertainment! Hang the balloons up (out of reach) and give one to each child as a going home present. Don't leave them on the floor. They won't last long and bust balloons may result in a crying child (never a good thing)!
2. Seating the children around a table to eat in another room is always preferable because you isolate the food and drink in one area.
3. Don't serve ice-cream, sweets or other refreshments once the show has begun it's asking for trouble! Most of the food will end up on your carpet and sticky fingers will get everywhere.
4. If you have hired a bouncy castle, please let it down before Devilstick Peat's entertainment starts his birthday party entertainment: after all, if one child goes off for a bounce, all the other children will follow, and we both really will want them to watch and get the most out of my show.
5. Get parents in the know! Peat likes to get set up before the children arrive, so he can greet them on arrival, so please put the times that he has been engaged for on the invitations.
6. When you want Peat to return for another party, he will give a different show.
7. Parents and other adults are very welcome to watch the show providing that they sit at the back and behave themselves. This also stops them from talking to loudly during the show.
8. If the children have to leave a magic show before the end they, quite naturally, get very upset and it disturbs the other children too. So try to get any parents that arrive early to wait until the performance is over.
9. Peat loves animals, but some pets find a room full of excited children very alarming. For their sake, please keep all animals in a separate room.
10. Last (but by no means least). After the party, please leave a review on my google page here as it will help others to book the best there is.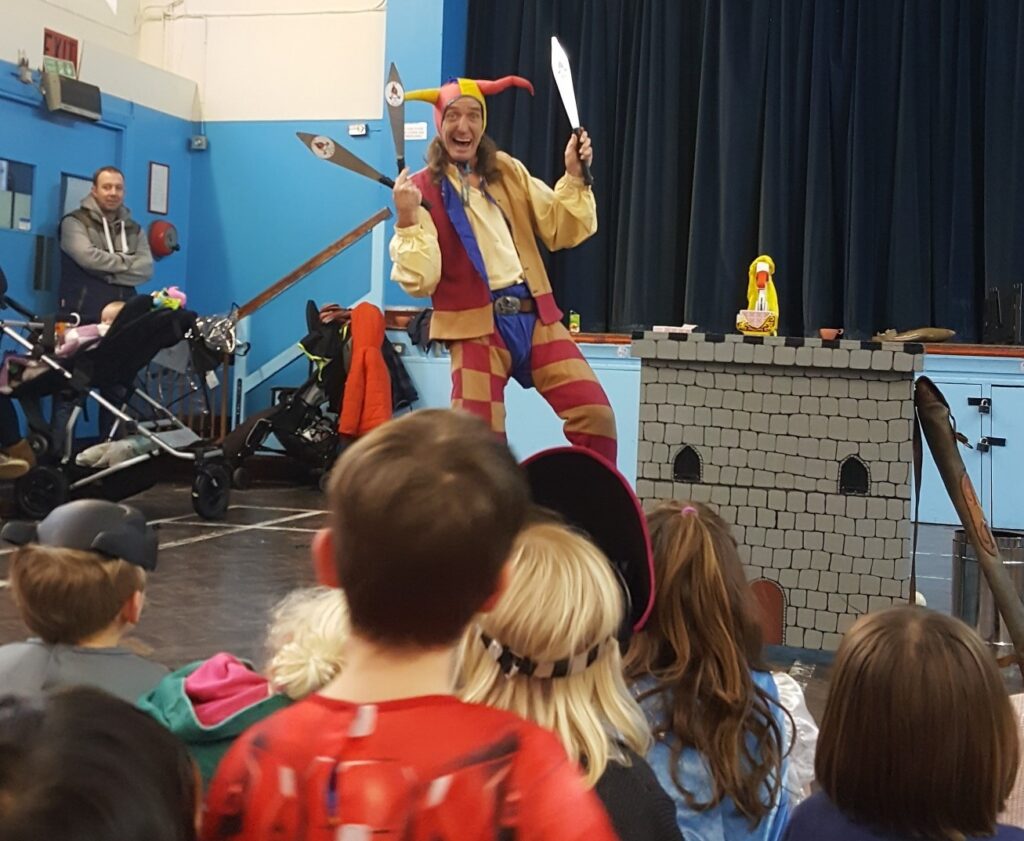 To return to DevilStick Peat's birthday page, simply click here