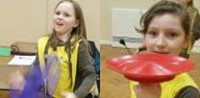 Everyone loves a night at the circus. This is doubly true when the star of the show is YOU. And that's exactly what our scouting and guiding circus badges workshops are all about.
These scouting and guiding circus badges workshops are designed to get the young people through their badges in one night!
DevilStick Peats partner and fellow jester, "Jester Dragonfly" has been a local district commissioner for the girl guiding association and is currently running local scout and cub groups. Because of this and our genuine belief in the benefits and social importance of the guiding and scouting associations, we are proud to offer the following, heavily discounted, scouting and guiding circus badges workshops to all units in East Anglia. These workshops are specially designed to get your whole group through the badge in one evening.
AT A PRICE YOUR GROUP CAN AFFORD!
For full details on our other circus workshops, please use the following link Circus Skill Workshops
Workshop Format
Our scouting and guiding circus badges workshops follow the following module. First we start with a comic yet educational demo in which your group are taught not just how all the equipment works, but also how to use it safely.
They are then divided into groups by the units leaders and these groups rotate around the different pieces of equipment and art section.
Attaining the circus performers badge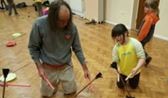 The rules for attaining the circus performers badge varies depending on your association. But rest assured that or workshops are specially designed to guide the young people through all the stages. Please feel free to contact us for more information on how we aim to achieve this for you and your group.
To learn more about the relevant badges please click on the following scouting and guiding links.
What packs say about us
Circus Entertainment in Cambridge
For more information or to book Devilstick Peat for your event, get in touch today!