Wedding Entertainment Cambridgeshire
When two people come together and make vows, it's not just the joining of two souls; it's the joining of two families, many of whom may never have met before. So what better way to break the ice than through the wonderful power of laughter. Brought to you via DevilStick Peats wonderful and unique brand of wedding entertainment.
Merry and greet, Close Up Magic, comedy and Circus Skills Workshops for your big day in Cambridge
DevilStick Peat can be at the door of the reception. Meeting guests and using humour to break the ice. He can wonder around the tables using magic and humour to amaze and amuse both children and adults. Maybe you'd like the children kept happy in a side room during the speeches, or a stage show specially designed to be broken down and performed between courses. DevilStick Peats wedding entertainment can do all this and more. Using a mixture of his own unique humor, comic routines and dazzling close up magic, Peat can make your very special day very unforgettable for everyone.
And what better way to amuse the children during the speech's than by having Peat perform some of  his world famous children's routines or run a circus workshop in a side room where Peat can amaze and amuse them with his skills whilst the best man shocks you with his stories.
So whether it's a wedding, hand-fasting, or civil partnership, themed or traditional, to make your special day everyone's unforgettable day, hire the best, hire DEVILSTICK PEAT. Because lets face it, your worth it.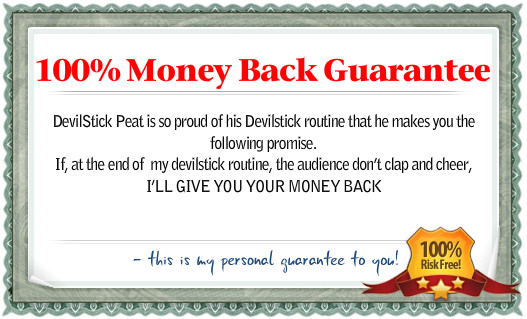 Circus Entertainment in Cambridge
For more information or to book Devilstick Peat for your event, get in touch today!