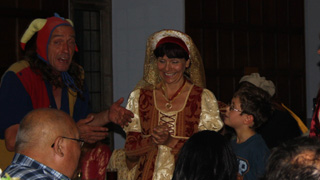 Medieval Banquet Entertainer Cambridge
If you're putting on medieval banquets, then it stands to reason that you'll need a medieval banquet entertainer, and what better guise than the fool. Famed for his wit, skill and humor, the fool was the highlight of any medieval banquet entertainment, turning strangers into friends through the universal language of laughter.Enter DevilStick Peat, a fool par excellence. Peat has been performing as a medieval jester at Banquets, festivals and re-enactments for nearly 30 years. During this time Peat has built up an amazing set of comic magic and juggling routines specially designed to transport your customers to a time when kings ruled, dragons roared, and the fool, with his wit and skill, had all eating out of the palm of his hand.
The magic starts as soon as the guests arrive, with Peat using his comic wit to not only meet and greet the guests, but also to help put them in the right mood to relax and enjoy a fun filled feast. During the night DevilStick Peat can perform his famous stage show. This lasts around half an hour, but can be broken down into segments and performed between courses. When Peat isnt doing his stage show, he can wonder around the tables, performing close up magic and comic routines. At the end of the evening, DevilStick Peat can be at the exit to ensure everyone leaves with a smile on their faces.
Medieval Jester Cambridge
Peat's unique medieval jester show, "The Complete Fool" can be broken down into different segments to be performed between courses. Whilst eating, Peat can wander around the tables, doing close up magic and interacting on a one to one basis, leaving everyone with the feeling that you hired a jester to perform just for them.
But that's not all, for if needed Peat can even MC the night, introducing the minstrels and other performers. Then, at the end of the evening, Peat will once again be there at the door, bidding all a fond farewell, or if the venue allows it, then outside juggling fire, something that's guaranteed to leave your guests with a strong, lasting image of a fun filled night.
Peat is so very proud of his skills in medieval banquet entertainment, that he makes you the following promise: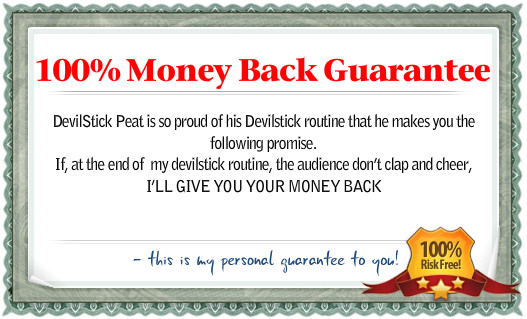 Circus Entertainment in Cambridge
For more information or to book Devilstick Peat for your event, get in touch today!