About Devilstick Peat, family and children's entertainer.
Way back in the 1980's, Peat first told his family and friends that he wanted to become a fool, jester and children's entertainer. They were, understandably, concerned. However, undeterred by their reservation's, Peat persevered. DevilStick Peat has spent over 35 years learning a multitude of skills. These include stage and close up magic. Circus skills to such a high level that other jugglers would give their right arm to achieve! Comic walkabout routines and so much more. All of which are blended together with his own zany brand of humour to bring you Devilstick Peat – The Complete Fool! Although often billed as a children's entertainer, Peats shows are designed to entertain all ages, from 7-700.
DevilStick Peats show, "the complete fool" has been performed at Europe's biggest medieval events, including Tewkesbury Medieval Fair, The Loxwood Joust and England's Medieval Festival. Many a castle has hired his skills as an authentic fool, including Dover Castle, Lulworth Castle and Warwick Castle.
Whatever your needs, from major festivals to village fates, birthdays to banquets, close up magic to stage shows, DevilStick Peat can make your event the one everyone's talking about.
P.S. His family and friends are still, understandably, concerned.
To see how DevilStick Peat could be an asset to your event, simply click here and follow the links
For more photos of DevilStick Peat in action, just follow him here, on Instagram.
Or, for regular updates on where and when to see him, simply follow his Facebook page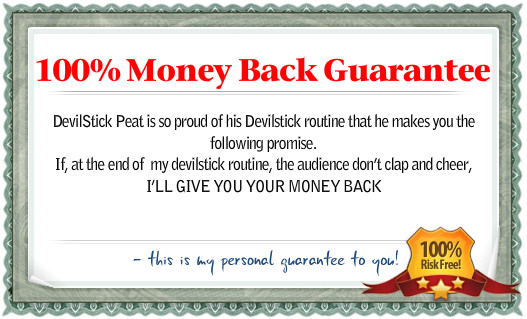 Based in March, Cambridgeshire, Devilstick Peat is a amazing, funny and unique magician, comedian, circus skills performer and jester. Peat has worked in over 20 countries spanning 3 continents (Some of which will even let him back in again).
Past events and highlights
Although many events advertise Peat as a children's entertainer, his shows appeal to the whole family. Be you 8 or 80, you'll love Peats ability to amuse and amaze. Devilstick Peats career has lasted over 3 decades. During this time Peat has had the privilege to appear at Glastonbury festival of performing arts. Bestival. The British and European juggling festivals (Where he won a prize for the most stupid act, not bad considering the fact that there was over 3,000 clowns there).
Hobbies
When not performing at festivals, re-enactments, birthday parties or other events Devilstick Peat has various hobbies. These include playing the harp, karate and annoying his long suffering wife.